Publishers will be showcasing their portfolios at the 39th EGOS Colloquium 2023 in Cagliari, just like in previous years. It is s a fantastic opportunity to engage with cutting-edge publications and explore new research trends. Don't miss out!

The Exhibition Area is located in the Campus Ingegneria, Building D, Aula Magna.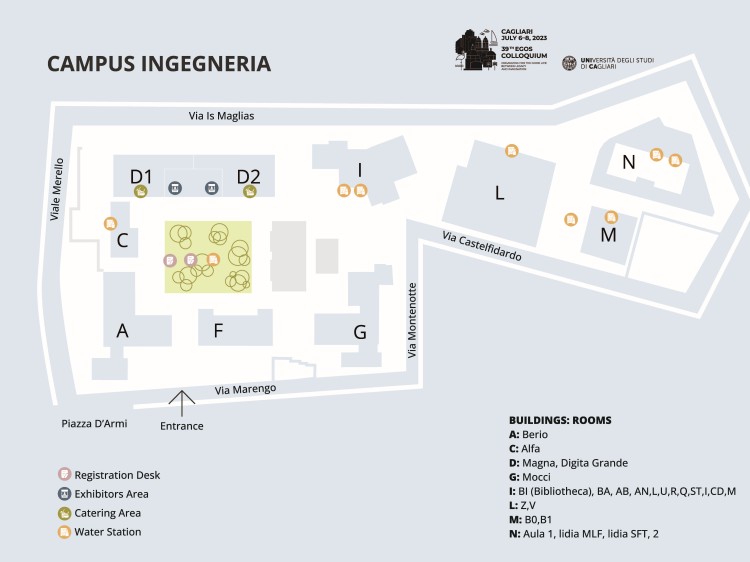 Cambridge University Press
Cambridge University Press is a not-for-profit publisher that dates from 1534 and is part of the University of Cambridge. Our mission is to unlock people's potential with the best learning and research solutions by combining state-of-the- art content with the highest standards of scholarship, writing and production. Visit our stand to discuss publishing with us, browse our latest publications, and access a collection of free chapters and journal articles. WE are offering 30% off all books available online for 30 days from the conference start date.
Visit www.cambridge.org/ to find out more.

 
Edward Elgar Publishing
The company was founded by Edward and Sandy Elgar and remains an independent family business, Chaired by Edward. Our original mission was to create a publishing house that attracted high quality books by offering a superior service to authors and we remain focused on treating potential authors and their books with care and attention to detail. Edward Elgar Publishing was conceived as an international scholarly press and from the beginning our sales were derived equally from Europe, North America and Asia Pacific regions, reflecting our author base and focus on topics of global interest. Today the Middle East, Latin America and a number of African countries are also important markets. Our offices are located in the UK (in the Regency town of Cheltenham and Camberley near London) and the US (in Northampton, Massachusetts).
Visit www.e-elgar.com to find out more.

 
Giappichelli
At Giappichelli, we believe that self-realization is a right of every human being, and knowledge is the best tool to achieve it. That's why since 1921, we have been alongside those who make studying the foundation of their university education and later their professional career. We delve into Law, Economics, and Political Sciences. Our goal has always been to provide students, professors, and professionals with the necessary tools to successfully achieve their professional goals.
Visit www.giappichelli.it/ to find out more.

 
SAGE Publishing
SAGE is a global academic publisher of books, journals, and a growing suite of library products and services. Driven by the belief that social and behavioral science has the power to improve society, we focus on publishing impactful research, enabling robust research methodology, and producing high-quality educational resources that support instructors to prepare the citizens, policymakers, educators and researchers of the future. We publish more than 1,000 journals and 600 new books globally each year, as well as library resources that include archives, data, case studies, video, and technologies for discovery, access, and engagement. SAGE's founder, Sara Miller McCune, has transferred control of the company to an independent trust, guaranteeing its independence indefinitely.
SAGE publishes the EGOS journals, Organization Studies and Organization Theory.
Visit https://journals.sagepub.com/ to find out more.